Text by UNICEF Philippines
Photos and Interviews by Larry Monserate Piojo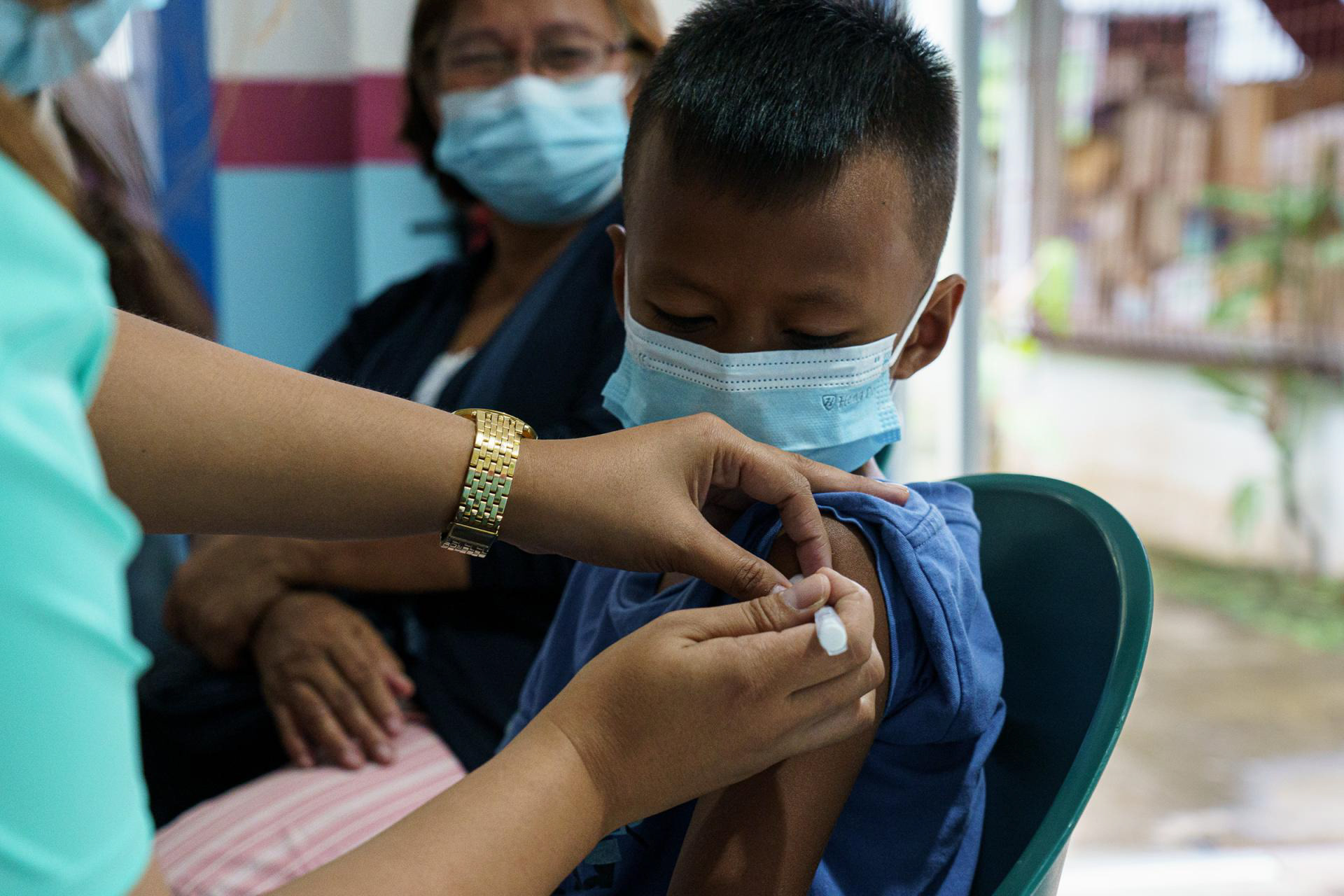 The Caraga Region in Mindanao was one of the most affected areas when Typhoon Odette hit the Philippines in December 2021. A few days after the typhoon made landfall, the region reported over 57,000 families or more than 217,000 individuals – 78,000 of them children – in need of assistance. In response, UNICEF and partners provided humanitarian assistance to the region and other affected areas.
Furthermore, in August, UNICEF and the Embassy of Australia provided walk-in cold storage facilities to the Surigao del Sur Provincial Health Office in Tandag City and the Department of Health-Caraga Warehouse in Butuan City, Agusan del Norte to support the routine vaccination and ongoing COVID-19 vaccination in the region, which were delayed because of the typhoon. The facilities will store COVID-19 and routine childhood vaccines.
A view of Linungan Island in Tandag City.  
Located approximately 833 km (517 miles) from Manila, Tandag is a 5th-class coastal city and the capital of Surigao del Sur. The city has a population of 62,669 (as of 2020) whose main economic activity involves fishing and farming.
From Manila, one has to fly to Butuan City in the Province of Agusan del Norte and travel to Tandag via a 3-hour land trip.
The Provincial Health Office (PHO) in Tandag City, Surigao Del Sur in Mindanao is one of the recipients of the walk-in cold storage system donated by the Australian Government and UNICEF. The cold storage will house COVID-19 and other routine childhood vaccines.
As of September 16, 2022, 89.27% of the target population for COVID-19 vaccination have been vaccinated in Caraga (DOH Center for Health Development-Caraga).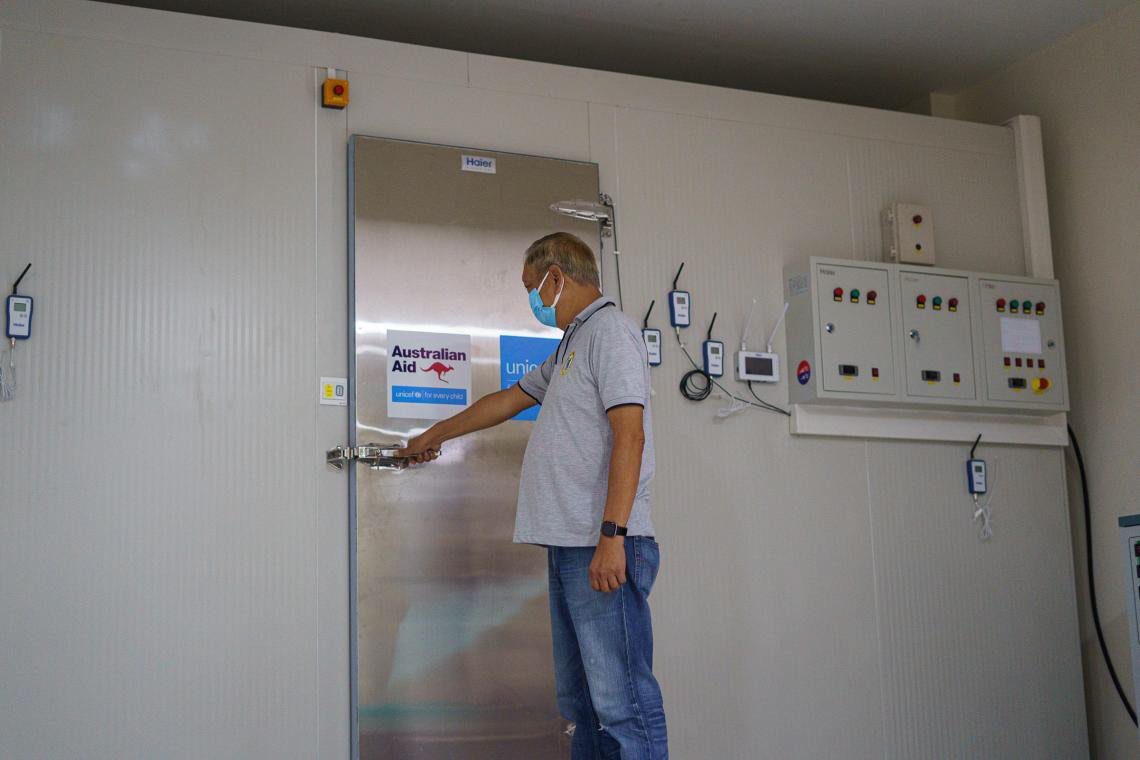 Surigao del Sur PHO Chief Dr. Eric T. Montesclaros checks the newly installed walk-in cold storage facility inside the PHO in Tandag City. According to Dr. Montesclaros, he specifically extended a portion of the building to make room for the new walk-in cold storage.
Provided by the Australian Government and UNICEF, the cold storage houses COVID-19 and other routine childhood vaccines for the 642,255 inhabitants of the province (2020 census).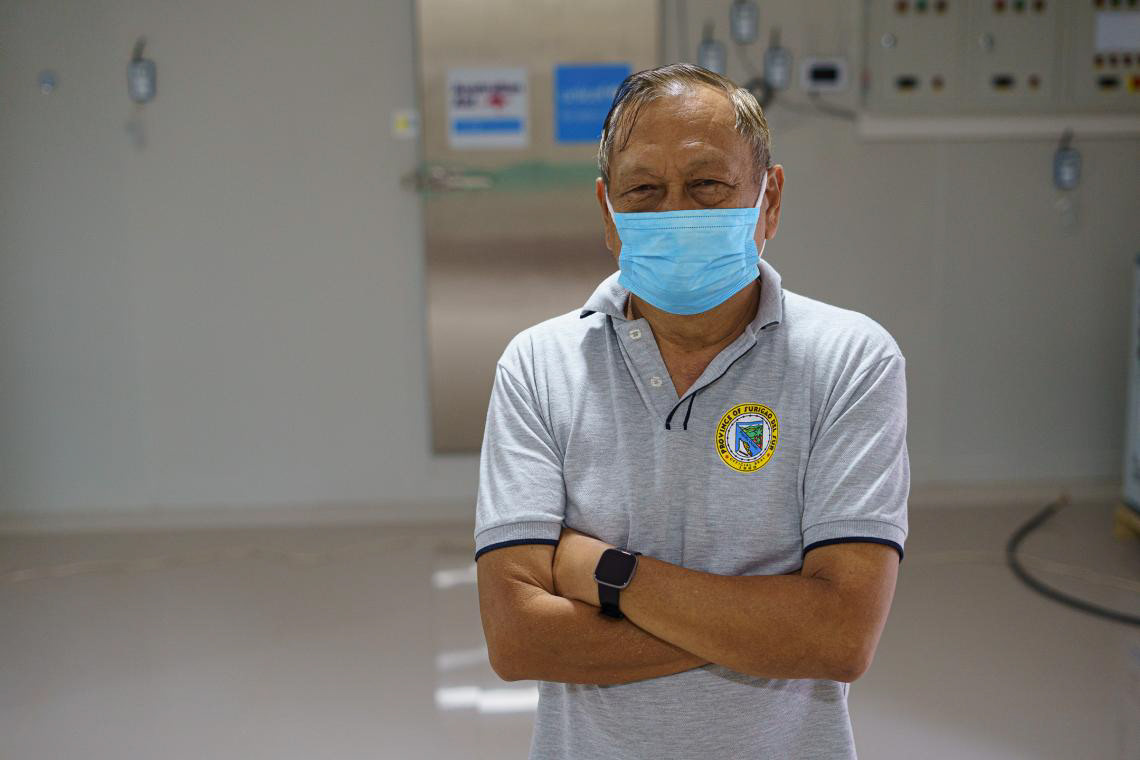 During a visit with UNICEF, Dr. Montesclaros shared that the newly installed walk-in cold storage facility inside the PHO in Tandag City facility has helped a lot in their vaccination efforts.
"It's a dream come true."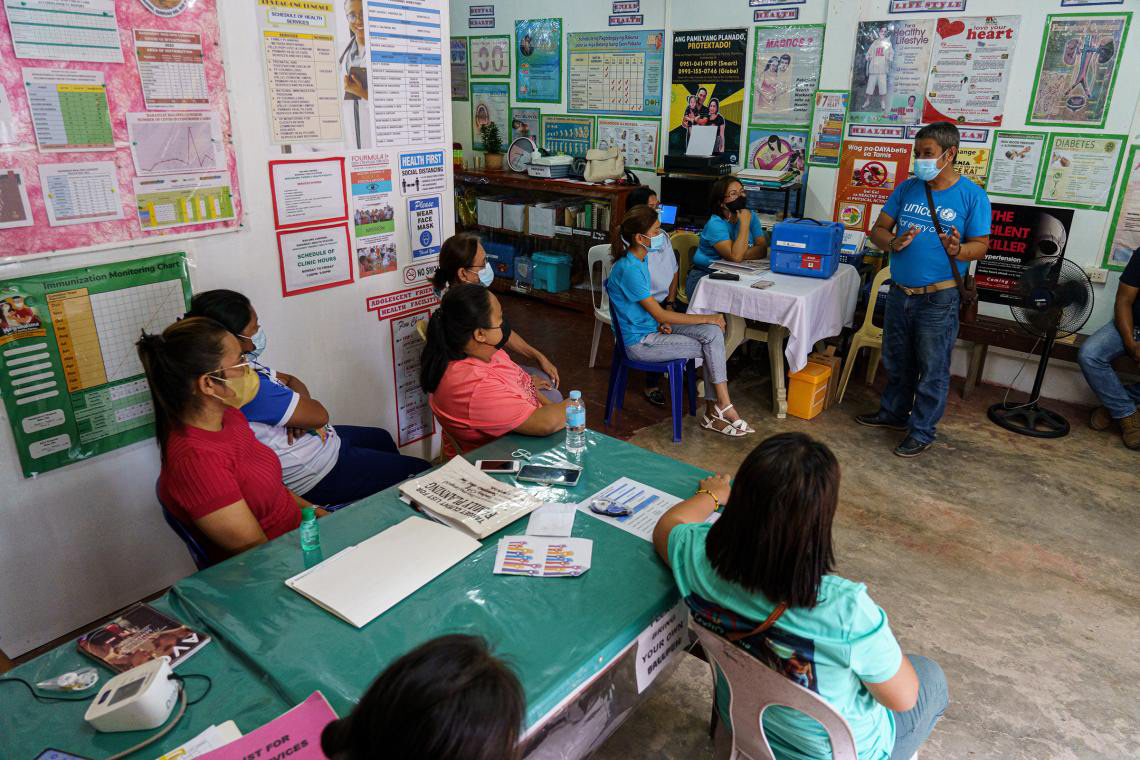 UNICEF Cold Chain Consultant, Absar Taulani orients the health workers at the Surigao del Sur PHO in Tandag about vaccine storage and efficacy as part of the capacity-building support in the use of the walk-in cold storage facility.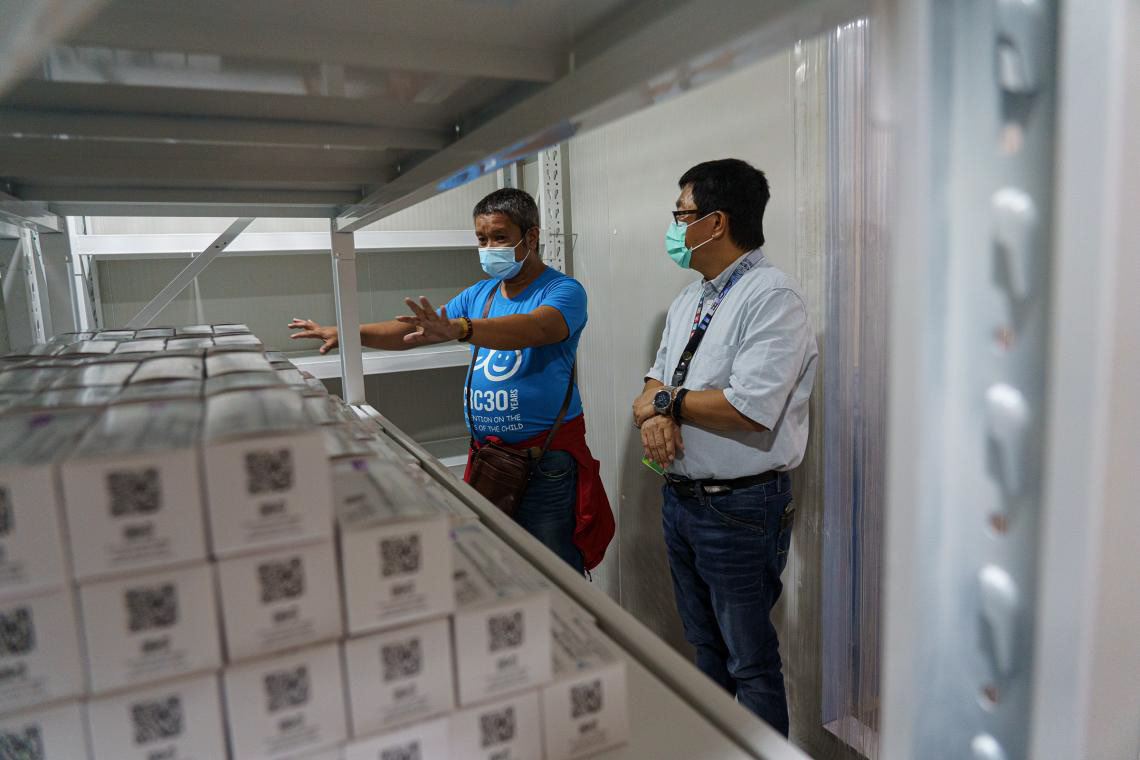 UNICEF Cold Chain Support Absar Taulani (left) and DOH-Caraga Regional Director Dr. Cesar Cassion inspect the interior of the new walk-in cold room in the DOH-Caraga Warehouse in Butuan City, Agusan del Norte.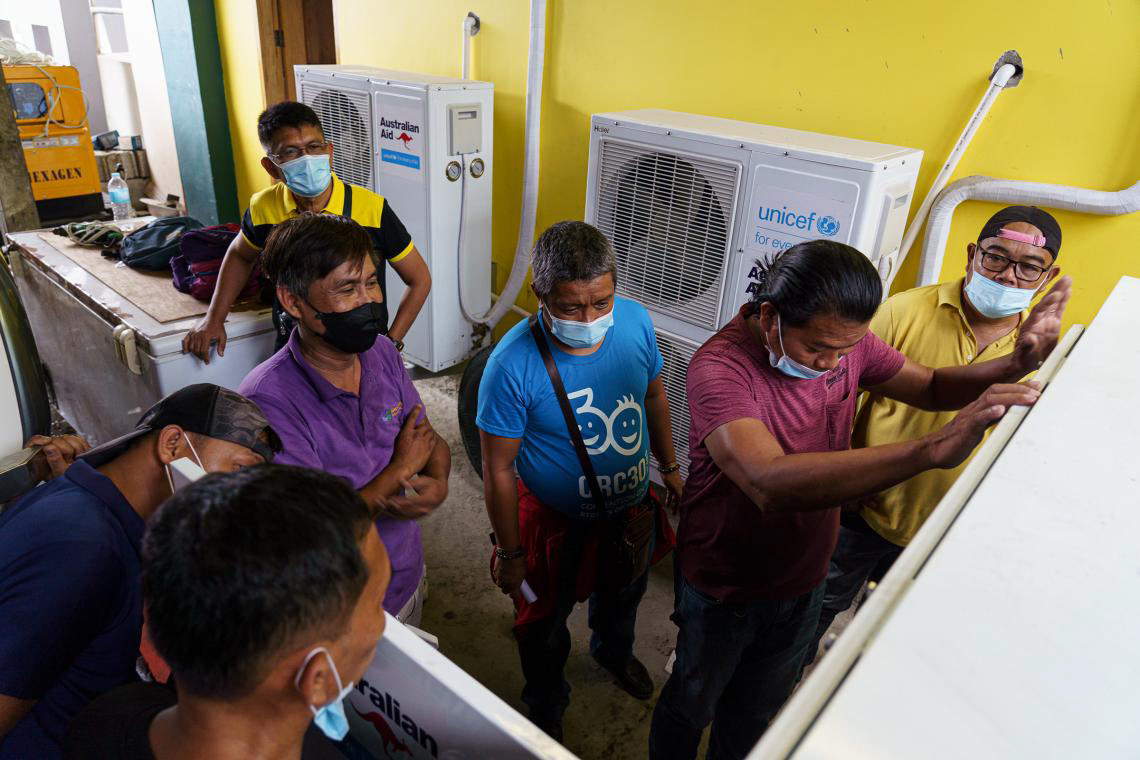 UNICEF Cold Chain Support Absar Taulani and DOH-Caraga technicians conduct final checks on the newly installed power generator that will power the new walk-in cold room in DOH-Caraga Warehouse in Butuan City.
Pharmacist Rochie Ramos manages the vaccines inside the new walk-in cold room in the DOH-Caraga Warehouse in Butuan City.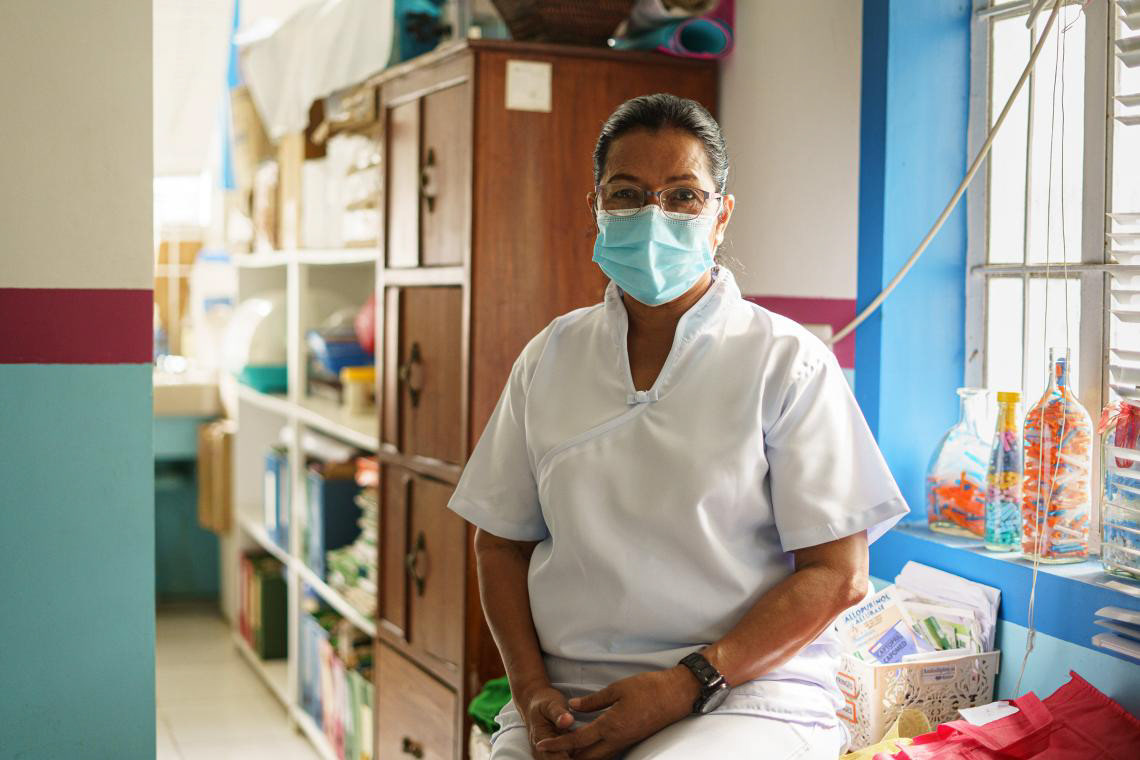 Berlyn Pino, 60, a public health nurse for 30 years and the National Immunization Program Coordinator for the province, told UNICEF that convincing people to get vaccinated has become less difficult – thanks mostly to the active community outreach that they've been doing.
"We engage those vaccinated to help us convince their family members who are hesitant. We give them information, education, and communication (IEC) materials to share with those who still fear [getting vaccinated]. We also schedule IEC sessions in every barangay."
Health workers at Surigao del Sur PHO prepare for the COVID-19 vaccination session at the Provincial Capitol of Tandag City on August 18, 2022. 
People line up at the Tandag City Health Office in Surigao del Sur for health screening before their regular check-up or COVID-19 vaccination. The City Health Office conducts regular routine and COVID-19 vaccinations for the community. 
In explaining the reasons for the initial hesitancy among the population against the COVID-19 vaccine, Surigao Provincial Health Office Nurse, Mary Jill Alvizo, said:
"They were hesitant at first because they didn't understand [the issues about] the side effects and efficiency levels [of the vaccines]. But the information, education and communication campaigns turned out well, and we were able to convince more people to get vaccinated."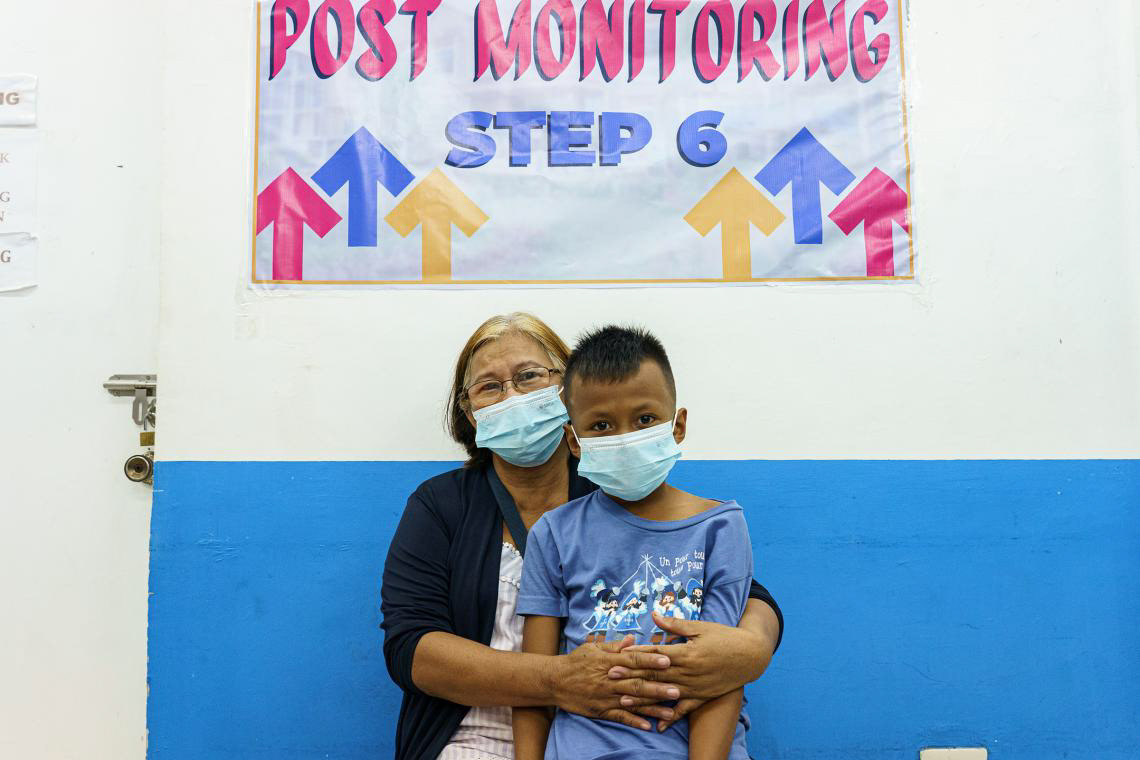 During the vaccination day on August 18 in Tandag City, UNICEF spoke with some of the residents about how they feel about getting vaccinated.
Nash Xander, 9, receives his second dose of COVID-19 vaccine in Tandag City as a pre-requisite for his ear operation and in preparation for the re-opening of schools in August. He was accompanied by his grandmother, Luzviminda Segre, 64, who has a message for those who are still hesitant to take the vaccine:
"Go get vaccinated. It also took me a while, but I finally decided [to get it]. I'm okay, I didn't feel anything unusual. I didn't have a fever after my first dose, and I was even able to work."
Senior citizen Filomena Laroa, 78, gets her second COVID-19 booster shot at the Tandag City Health in Surigao del Sur during the scheduled COVID-19 vaccination. Filomena said she wanted to get vaccinated as soon as possible. But her high blood pressure prevented her from getting vaccinated during the first rollouts for senior citizens.
"I kept coming back to the center. I went three times, and on my fourth try, I was finally allowed. Without thinking twice and without a doubt, I got vaccinated voluntarily."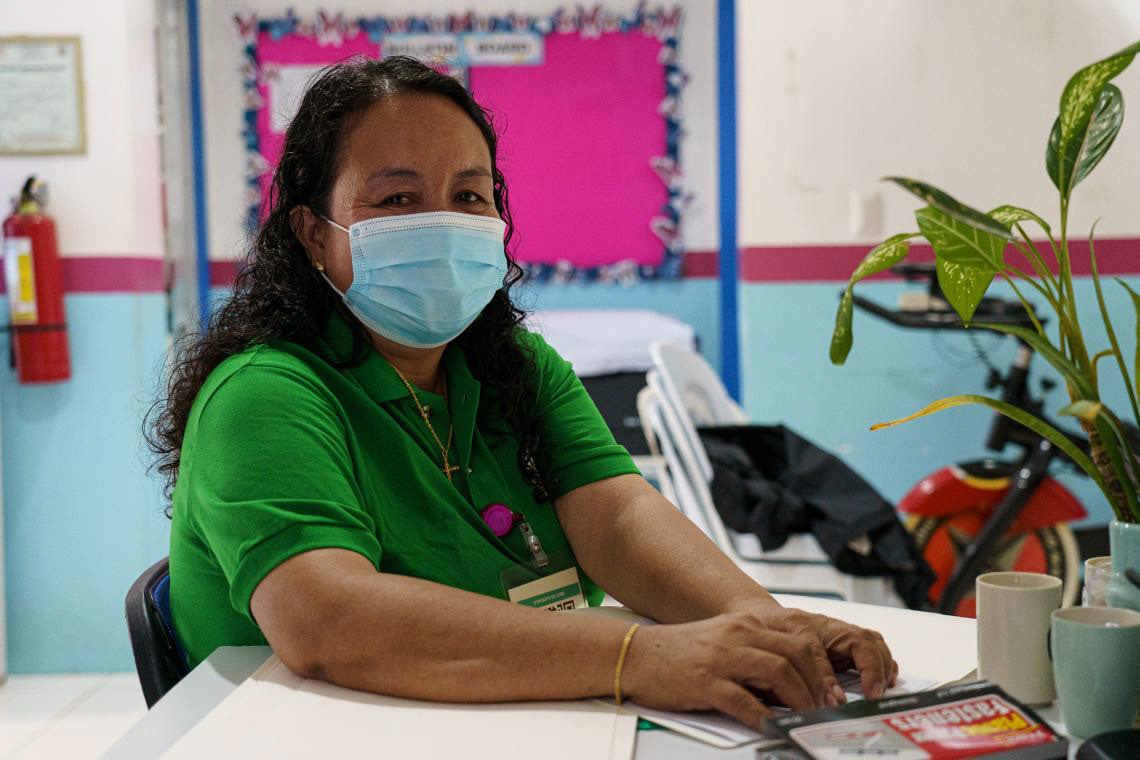 Maria Marlo Solima, 53, a frontliner works as an admin aid at the at Tandag City Health Office, Surigao Del Sur. She used to work at the quarantine facility during the peak of COVID-19 – cleaning quarantine rooms and other utility works. Maria was hesitant to take the vaccine despite being a front liner and working at a quarantine facility. 
"Don't be afraid because getting vaccinated is for your own good. It is the right thing to do."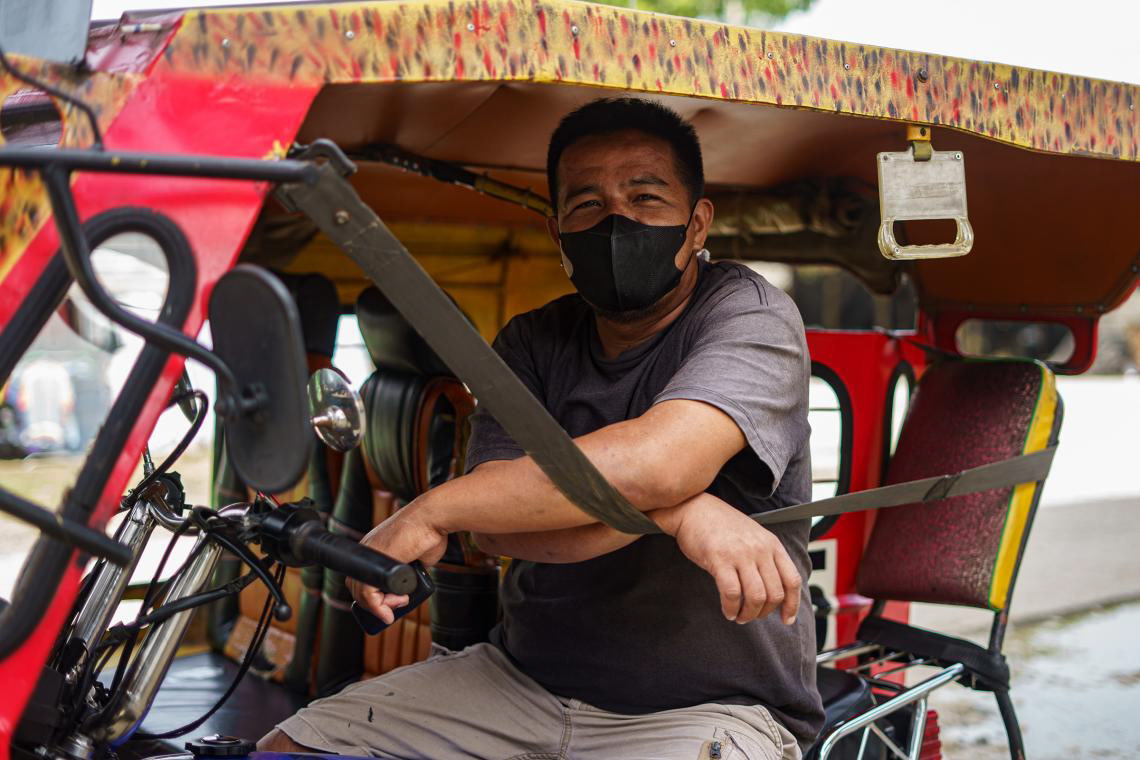 Juvy Miranda, a 39-year-old tricycle driver in Lianga, Surigao Del Sur believes that vaccines are important to help protect people from illness. While many of his co-drivers are unvaccinated, he never had second thoughts about getting a shot. 
"It is really helpful to avoid infections especially from COVID-19 which until now is still around and we cannot see it."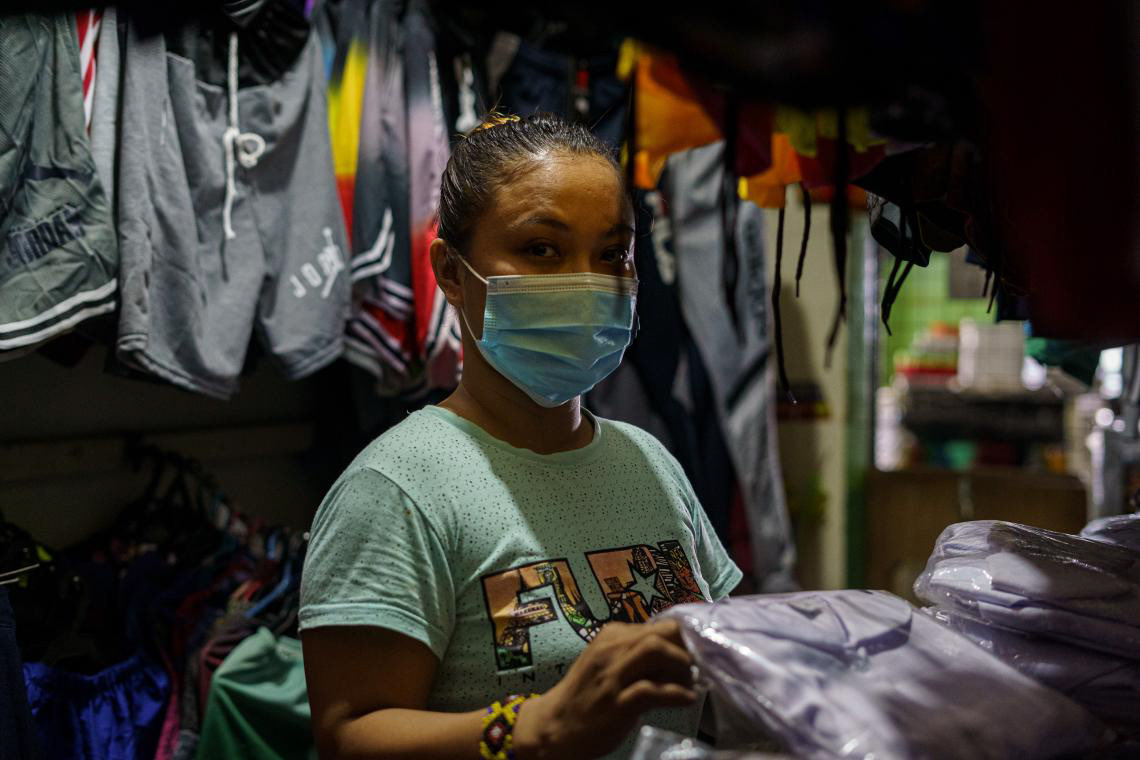 Irene Egot, 36, a sales lady in Market Mall in Lianga, Surigao Del Sur is now waiting for her booster shot.
"I decided to get vaccinated because a lot of people are doing fine after vaccination, the entire world got vaccinated."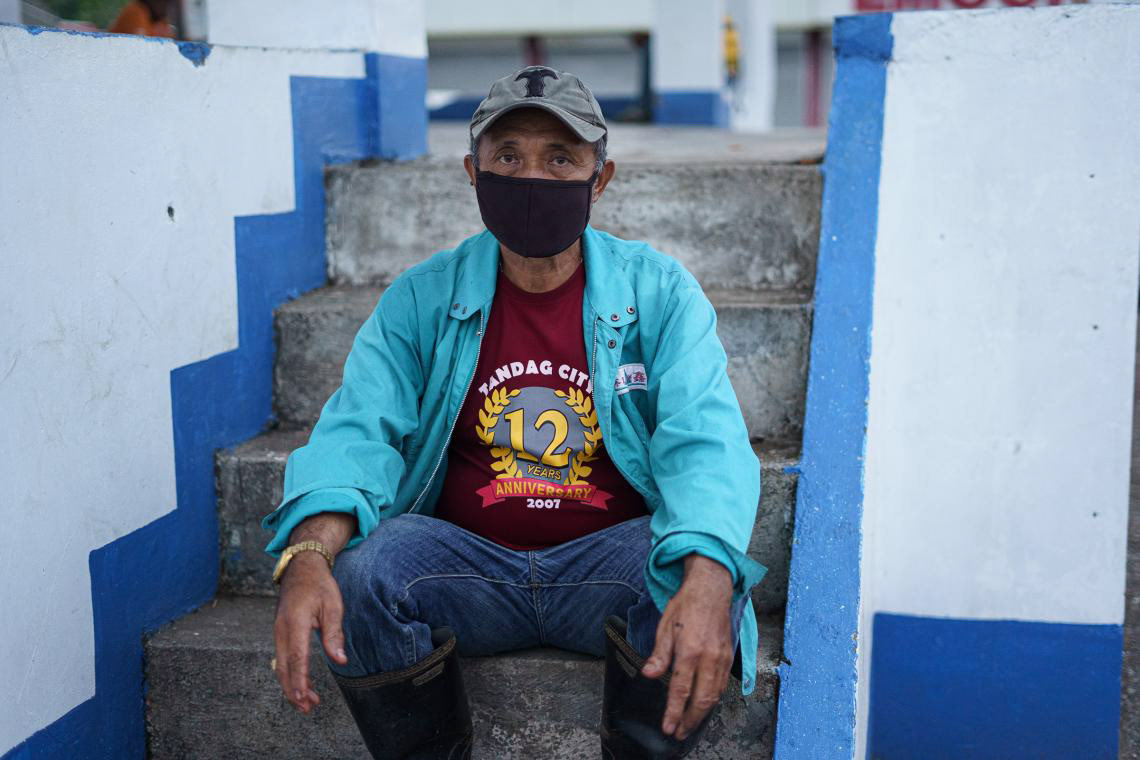 Tandag City street sweeper Renato Gelbero, 58, volunteered to get vaccinated because he wants to avoid infections and keep himself safe from illness. He is waiting for his booster shots. 
"We are convincing other people in Tandag City to get vaccinated so that we will all be protected."
_____________________________________________________